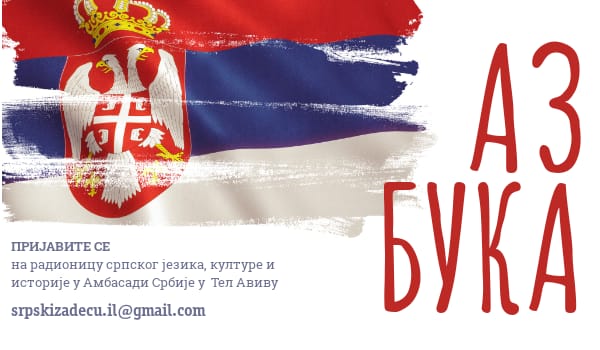 Dear friends,
We are pleased to inform you that the Embassy of the Republic of Serbia in Tel Aviv, for the first time in Israel, is launching a workshop on Serbian language, culture, and history.
Our goal is to teach Israeli kids to read and write in Serbian, Cyrillic, and Latin script through conversation, singing and playing party games. In addition to the language, we would also like the youngest generation to learn about their parents and grandparents' country, about Serbian culture, tradition, historical events, geography, etc.
The workshop will include celebrations of our holidays, visits to museums, field trips, and other activities. It will be led by Jelena Mihailović Rozencvaig, a highschool teacher at the Herzliya High School in Tel Aviv. She has extensive experience teaching the Serbian language and subjects mentioned.
The workshop is for students aged 6 to 17. Given the restrictive measures implemented to contain the COVID-19 pandemic, we'll initially organize the ZOOM platform lectures. When the overall situation improves, children and parents will meet at the Embassy, ​​where the workshop will be held every Friday, from 1 to 3 p.m.
The application deadline is November 16, 2020, and the beginning of the workshop is November 20, 2020.