National Assembly Deputy Speaker and Head of the Parliamentary Friendship Group with Israel Prof. Dr Vladimir Marinkovic attended the conference on July 11, 2018, marking the 70th anniversary of the State of Israel at the Israeli Parliament – Knesset.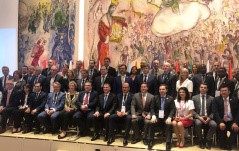 The conference was hosted by the Speaker of the Knesset Yuli-Yoel Edelstein and attended by the heads of 32 countries' parliamentary friendship groups with Israel. Marinkovic highlighted the excellent relations between Serbia and Israel, the friendship between the Serbian and Jewish people bound together by the same grim fate and fight during World War II. The excellent relations are evident in the expanding trade, investment of Israeli companies into Serbia and the increasing numbers of Israeli tourists in Serbia. He invited the Head of the Knesset's PFG with Serbia Oded Forer to visit Serbia and help maximize parliamentary cooperation which is very important for the two countries' overall relations.
This visit comes in the wake of the hugely successful visit of National Assembly Speaker Maja Gojkovic to Knesset in February this year, which had opened up the doors to parliamentary cooperation.