Тhe 3rd Meeting of Heads of Government of China and Central and Eastern European Countries, held in Belgrade оn 16 December 2014 was attended by, apart from the Prime Ministers of China and of the host nation Serbia, Prime Ministers of Bosnia and Herzegovina, Czech Republic, Estonia, Hungary, Latvia, Lithuania, Macedonia, Montenegro, Romania, Slovak Republic, Slovenia, Albania and Deputy Prime Ministers of Bulgaria, Croatia and Poland. Participants considered the possibilities of strengthening, first of all economic relations with China, and also their mutual relations, especially in the fields of infrastructure, transport, energy, science and tourism, and also several multilateral and bilateral agreements were signed.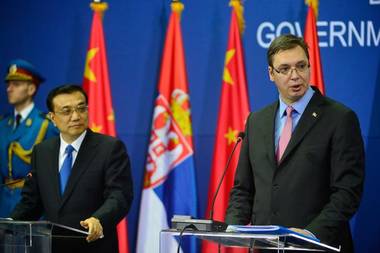 During the Summit a bilateral meeting between the Governments of Serbia and China was held, within the frame of which the two countries signed several agreements, memorandums and protocols on cooperation in various fields, from state of the art technologies and telecommunications to building a power plant, but also on the export of Serbian food industry products to China.
Serbia and Hungary signed the Agreement on cooperation between the Serbian and Hungarian railways and customs authorities, part of a deal to modernize the Belgrade-Budapest railway.